Is your occupational health and safety program (OHSP) relevant in today's evolving work culture? Laboratory animal experts Timothy D. Mandrell, DVM, DACLAM, and Mildred Montgomery Randolph, DVM, DACLAM, discuss ways to revitalize OHS programs in our webinar, "Does Your Occupational Health Program Need a Shot in the Arm?"
Mandrell and Randolph suggest that the age-old ways of understanding occupational health are evolving, and laboratory animal OHS programs must keep up. They recommend powerful ways to rejuvenate and jumpstart outdated OHS programs to meet today's new challenges.
What is an Occupational Health and Safety Program?
Occupational health and safety programs deal with all aspects of health and safety in the workplace. Historically, OHS programs focused on preventing hazards in work environments. Its primary goal was preventing accidents and harm to people from work-related activities. Randolph and Mandrell point out that the primary ideals of Occupational Health and Safety Programs are evolving to accomplish more for the overall well-being of workers.
Who's Responsible for Occupational Health Programs?
According to Randolph and Mandrell, OHS programs in laboratory animal science are the institution's responsibility. Randolph explains that the institution or organization hosting the research is responsible for protecting the health and safety of employees who care for, use, and come in contact with animals.
Institutional OHSPs should include:
What personnel should be enrolled
Why they should be enrolled
A risk assessment with hazard identification
Regulations for waiving enrollment
Controlling exposures
Training
Institutional Commitment and Coordination
What is OSHA?
The Occupational Safety and Health Administration (OSHA) is a government organization in the U.S. that ensures safe and healthful working conditions for workers by setting and enforcing standards by providing training, outreach, education, and assistance. OSHA has specific guidelines for biomedical research.
It includes regulations for the following:
Personal protective equipment (PPE)
Preventing exposure to infectious diseases
Guides about hazardous chemicals, drugs, and allergens
Suicide prevention
Workplace violence
Recommended practices for safety and health programs
Who Are the Major Stakeholders in Occupational Health Programs?
A stakeholder is an individual, group, or organization impacted by the outcome of a project or business venture. Stakeholders are interested in the success of a project. They can be within or outside the organization that's sponsoring the project. Stakeholders are vital because they can positively or negatively influence the project with their decisions.
As you can see from the diagram, there are so many stakeholders in laboratory animal OHS programs. And according to Randolph, ensuring that all of these stakeholders' voices get heard can be challenging. But, regardless of the challenges, she insists that each stakeholder must be able to come together for an OHSP to be successful.
Jumpstarting Your Occupational Health and Safety Program
Now that we've gone over the basics of an OHSP, who is responsible for it, and who the stakeholders are, let's break down how to jumpstart lab animal OHS programs. The first piece of advice Randolph has for you is to take it one step at a time. Revamping and rejuvenating your OHSP can be daunting. But Randolph insists it can be done and done well if you do it in small pieces.
1. Effective Occupational Health Programs Should Consider Animal Contact
According to Randolph, when you think about rejuvenating your OHSP, consider job descriptions and the nature of animal contact. For example, a common survey question is: will the employee work with animals? Randolph explains that this question is not specific enough to gauge the risk effectively.
For example, an employee might not work with animals, but they might experience exposure. This distinction is critical. The bottom line is even though a particular person in the research facility is not handling the animals, significant animal exposure still might exist. So, an OHSP must protect all levels of exposure.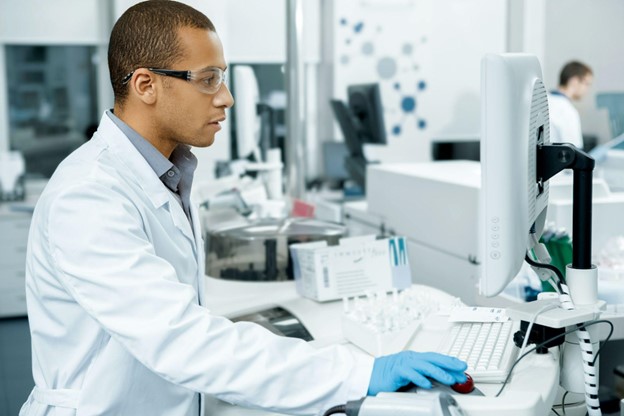 Here are some examples of roles that don't work directly with animals but are still subject to exposure to them:
Animal facility support, such as security or maintenance
Institutional animal care and use (IACUC) members and support staff
Visiting scientists, site visitors, trainers, and sales reps
2. Updated and Thoughtful Risk Assessment Questionnaires Are Critical For OHSPs
According to Randolph, at some point, personnel at laboratory animal facilities must answer some questions about their potential risks and exposure. Experienced lab animal professionals should be able to answer these questionnaires confidently and accurately. However, Randolph points out that new lab animal professionals need guidance filling out risk assessment questionnaires.
Randolph suggests providing new team members with guidance from a supervisor or someone who knows the different components of the work environment well. Also, Randolph encourages institutions to conduct risk assessment questionaries periodically because peoples' answers might change depending on their experience level.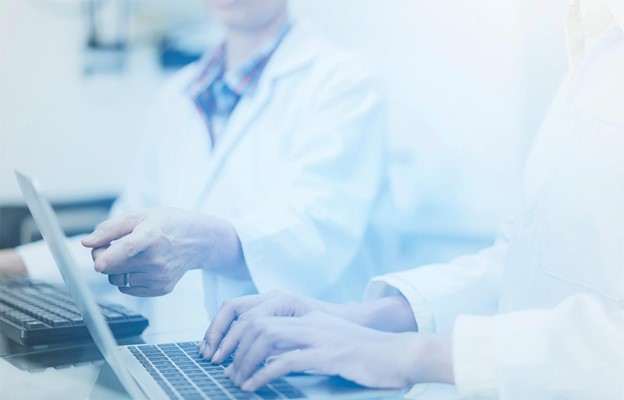 Risk assessment questionnaires should cover the following points:
The nature and extent of animal exposure
Position, duties, and role in research or institutional affiliation
Workplace environment
Species
Known hazards and levels
PPE
Possible exposure types
3. Relevant Occupational Health Programs Should Address Laboratory Animal Allergy
Laboratory animal allergy (LAA) is an occupational disease affecting personnel who work with or around laboratory animals. More specifically, it's an immune response to animal allergens found in urine, saliva, and serum from lab animals. And according to Mandrell and Randolph, LAA is the most common health consequence and concern when working with laboratory animals. The main symptoms include the following:
Rashes from animal contact with the skin
Nasal congestion and sneezing
Itchy eyes
Asthma (coughing, wheezing, and chest tightness)
The symptoms of LAA might seem mild at a glance, but LAA can be life-threatening. Mandrell and Randolph insist that it's the institution's responsibility to give employees access to information about LAA.
4. Occupational Health Programs Must Be Consistent
Monitoring and consistency are paramount for a safe OHSP, explains Randolph. She urges that "from the chancellor to the janitor," health and safety monitoring must be consistent. In other words, no one is exempt from following the OHSP protocols and rules.
Regardless of an employee's rank, title, experience, or credentials: there are no free passes. The application of the rules must be consistent across the board for effective health and safety in laboratory animal facilities.
5. Your Occupational Health Program Should Reflect Learnings From the COVID-19 Pandemic
Randolph and Mandrell encourage reimagining and reinvigorating Occupational Health and Safety Programs in 2023 due to the evolving growth and changes in the workplace due to the COVID-19 pandemic. The COVID-19 pandemic has changed work for everybody in some way over the last few years. And the laboratory animal science workplace is no exception. Mandrell and Randolph urge you to ask yourself: What impact has the pandemic had on your program? What adjustments will help in the future? They recommend considering those changes in reimagining your OHSP.
Mandrell points out one challenge that seems to relate to the pandemic, understaffing in today's workplace. Most facilities are running with a smaller crew. What are the consequences of this? Sometimes it means more multitasking, multiple job duties for one role, and more complexity of tasks for one person. Mandrell and Randolph believe it's imperative to consider this type of challenge when looking at improving health and safety in the workplace.
6. Is Your OHSP Relevant to the New Generation of Workers?
Did you know that by 2025, Millennials will make up 75% of the workforce in the United States? With new generations dominating the workforce, it's only natural that there would be new ways of understanding occupational health and safety. Furthermore, Mandrell states that today's workforce sees the work world differently, especially in this post-COVID era. Current OHSPs must meet the evolving health and safety expectations of new generations. So, what does this younger workforce expect? What are the contemporary and current trends for effective OHSPs?
What are the current trends for OHS programs? Randolph points out that millennials expect more from their employers than baby boomers might have. Some things millennials are looking for are listed below:
Comprehensive non-compensation perks like holistic wellness programs
Leaders that foster engagement, performance, and well-being
Training and opportunities for individual growth and development
Randolph explains that institutions that offer these incentives, and consider them a part of occupational health and safety, see better recruitment of talented personnel.
7. Does Your Occupational Health Program Include a Wellness Plan?
First, let's define what occupational wellness is. It involves balancing work responsibilities and life in a way that prioritizes physical and mental health. Randolph explains how millennials expect OHS programs to include a wellness program, not just hazard prevention. In other words, the new workforce demands a work environment that prioritizes wellness. And there's evidence that supports the benefits of these new demands.
Health and wellness programs are associated with higher employee satisfaction rates, decreased stress, improved health, more productivity, better recruitment, and retention. According to Randolph, offering employee wellness programs is a fundamental way to attract and retain the most talented employees. And it might be the status quo sooner than later.
8. Contemporary OHS Programs Should Include Strategies to Mitigate Psychosocial Hazards
According to Randolph, the leading contemporary OHS programs consider psychosocial hazards. Below are some psychosocial threats that are common in the workplace.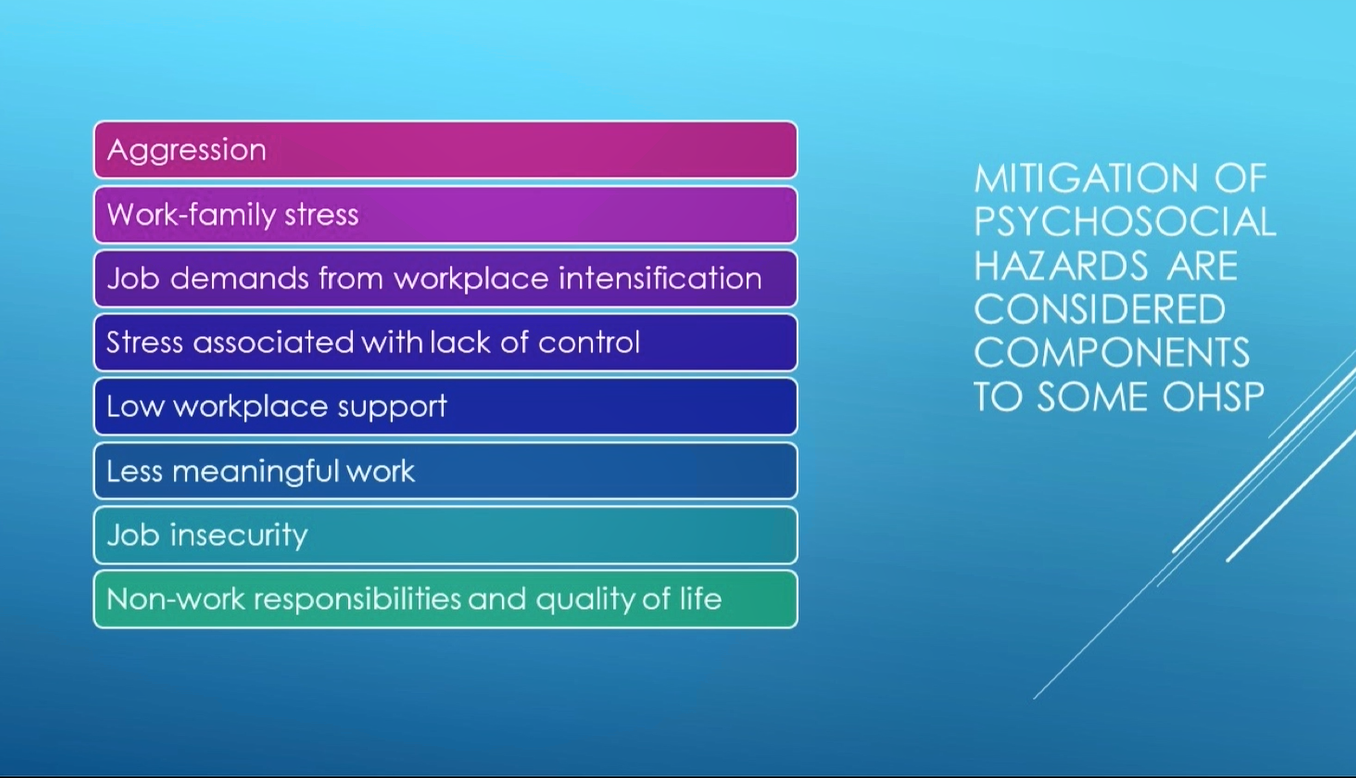 Randolph shares how she combated psychosocial hazards during her years in lab animal medicine. She frequently arranged for the research investigator to speak to the staff at the beginning of a project to explain the purpose of the research program. By learning about the nature of the research program, her husbandry team realized how meaningful their jobs were. By providing them with this knowledge, she helped their overall work satisfaction. Implementing strategies like this to your OHSP can profoundly impact lab animal research.
Looking Toward the Future of Occupational Health and Safety Programs
Mandrell and Randolph share some insights into the future of occupational health and safety programs. They believe shifting from encouraging health and wellness on an individual level to enhancing the work environment will improve health and safety in the workplace. As this shift to a holistic approach becomes more and more mainstream, Mandrell and Randolph look forward to witnessing how OHS programs in lab animal science transform.