We all know how important ergonomics are in the workplace. Ergonomic equipment can make or break the success of any operation. And this is especially true in lab animal science. Ergonomic equipment in lab animal research helps improve employee comfort, decrease stress, and increase productivity.¹ And couldn't we all benefit from a more ergonomic work environment?
Adding a successful ergonomics process to your facility can help improve these common issues. Furthermore, according to the Institute of Lab Animal Research, a successful ergonomics process supports the institution's research goals, reduces employee stress, minimizes human errors, and improves human performance by removing barriers between people and their tasks.¹ Which are all vital in a successful lab animal research study.
That's where FlexFlow comes in. FlexFlow can help make your research program more ergonomic in the following ways.
FlexFlow Reduces Physical Strain and Stress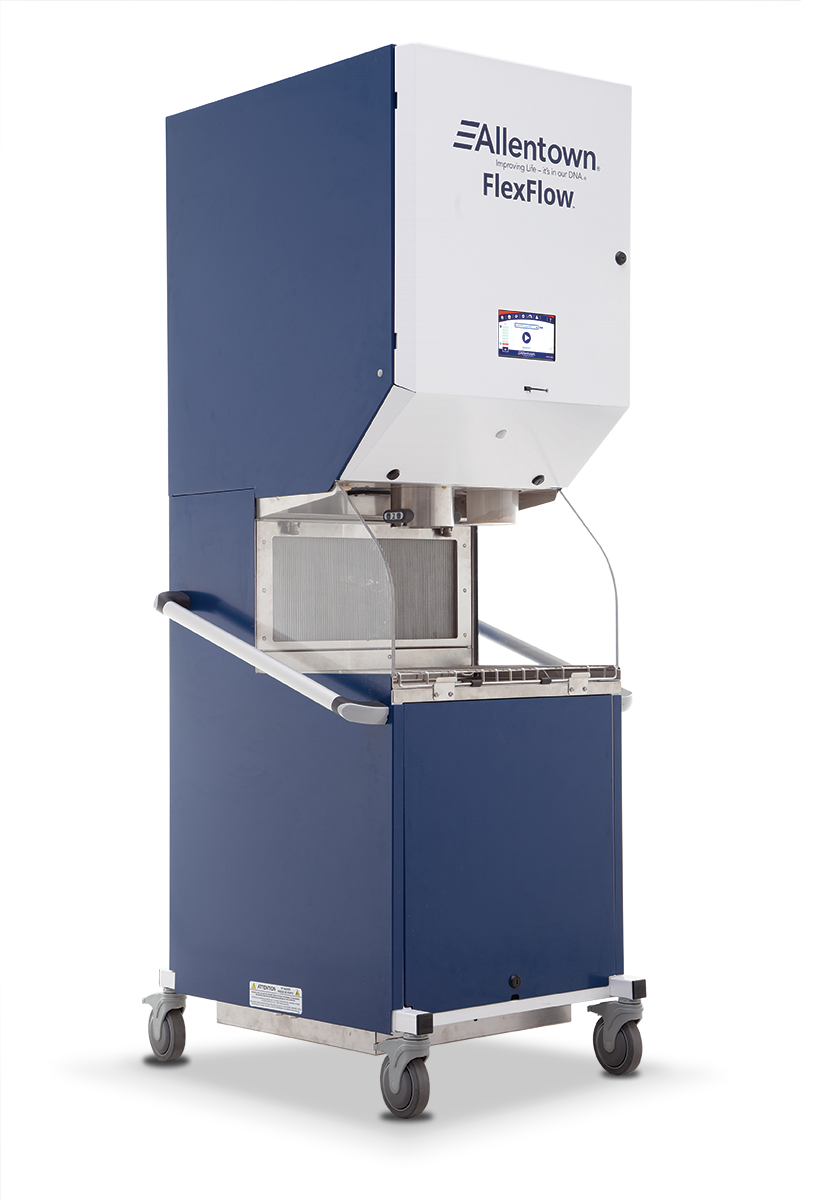 Stress and strain in lab animal research may increase "injuries, errors, and worker fatigue."¹ So, are you looking for new ways to reduce manual labor and increase automation in your facility?
Introducing FlexFlow to your laboratory could help.
By design, FlexFlow alleviates the stress and strain on employees caused by manually distributing bedding to individual cages. Instead, employees can simply place their cages under FlexFlow's chute. Then, FlexFlow automatically dispenses the bedding for them. Thus, helping reduce physical stress and strain.
Ergonomic Safety Grate Feature Helps Alleviate Physical Stress
FlexFlow has a light, sturdy, built-in safety grate to help promote safety and improve staff's comfort. The purpose of the safety grate is to provide a good work surface and separate the user from the bedding conveyance for safety. Also, the grate must be open when adding bedding and closed to dispense bedding. Otherwise, the machine will safely cease operation.
Additionally, the safety grate retracts three-quarters of the way, so users can have a comfortable place to rest bags of bedding while they fill FlexFlow. Plus, the grate can easily hold the weight of one full bag of bedding. So, staff can confidently rest bedding bags on the safety grate for additional support and comfort.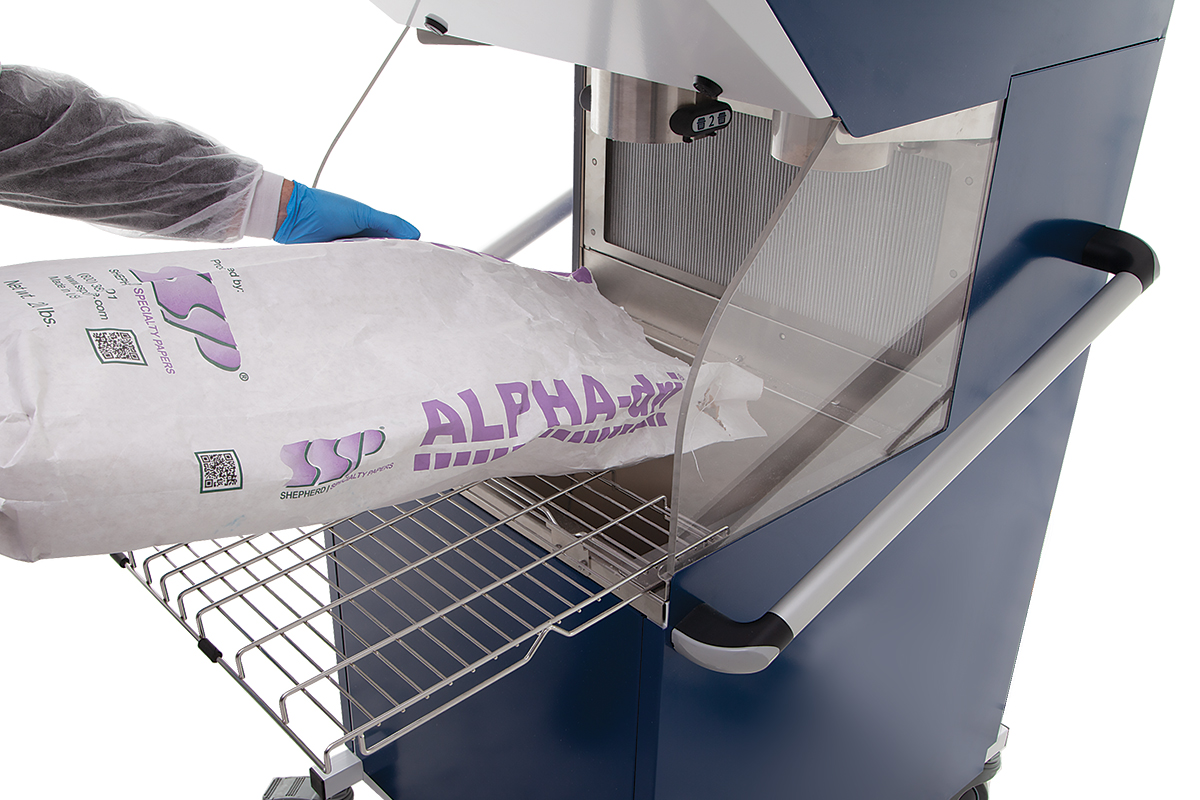 FlexFlow's Compact Design and Flexibility Helps Improves Workflow
According to the ILAR, an efficient and ergonomic lab animal work environment should include direct routes, with minimal distance to maneuver carts and racks, from sanitation stations to related operational areas, including bedding dispensers.²
Utilizing FlexFlow in your facility could be an effective solution for improving organization and direction in a lab animal work environment. How? Well, FlexFlow is the most compact bedding dispenser in the industry. In half the footprint of other units, it maintains the same throughput capabilities. FlexFlow can immediately increase your floor space — creating more opportunities for improving workflow, and one or multiple units can be strategically placed within operational areas to enhance workflow and accessibility.
What's more, FlexFlow's side panels are removable, so you can connect multiple units together to increase throughput, depending on your facility's needs. Simply remove the side panels, and attach as many FlexFlow bedding dispensers to fit your facility. Or, you can position single units strategically in various locations for a more dynamic workflow, depending on the nature of your study.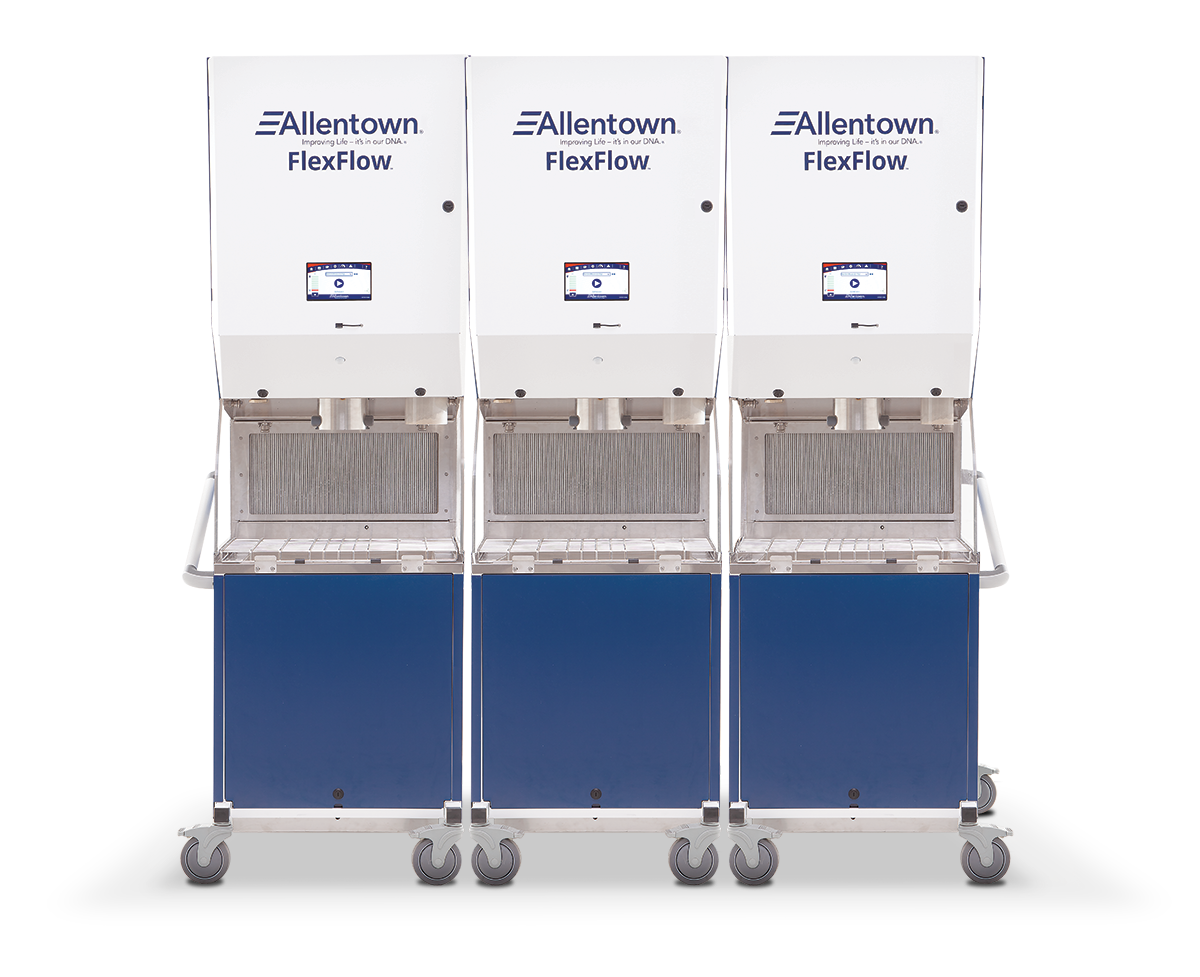 FlexFlow Helps Minimize Operator Errors
Operator errors happen, and people make mistakes. It's only natural. But, repeated errors leave operators feeling unsatisfied and stressed with their work. And we already know how critical it is to reduce these feelings in the workplace.
But, there are solutions. Create more ways to help operators make fewer mistakes in the workplace by providing them with more ergonomic work materials. And adding FlexFlow to your facility is one way to do just that.
For example, FlexFlow helps minimize errors through its intuitive Human-machine interface (HMI) software. FlexFlow features a large, colorful touchscreen as easy to use as any smartphone. This easy-to-use HMI software makes selecting settings and troubleshooting FlexFlow simple. And more simplicity means fewer errors.
Furthermore, FlexFlow accurately and consistently automates a process that would otherwise be manual. And with anything manual, there is room for error. Allow FlexFlow to accurately dispense the correct amount of bedding every time.
Learn More About FlexFlow
Do you want more information on what makes FlexFlow flexible, efficient, and ergonomic? Check out our website to learn more. 
References
Kerst, J. "An Ergonomics Process for the Care and Use of Research Animals." ILAR Journal, vol. 44, no. 1, 2003, pp. 3–12., https://doi.org/10.1093/ilar.44.1.3.
Festing, Michael F. W., and Douglas G. Altman. "Guidelines for the Design and Statistical Analysis of Experiments Using Laboratory Animals." OUP Academic, Oxford University Press, 1 Oct. 2002, https://academic.oup.com/ilarjournal/article/43/4/244/981872.