Research with non-human primates (NHPs) "has led to critical health advances that have saved or improved millions of human lives."1 This fundamental research with NHPs is crucial for saving and improving more lives in the future.1 And although NHPs make up only 0.5% of all research animals, they are essential for biomedical research.1 That's why experts are calling for more 3Rs in NHP research; to ensure that "studies are legitimate, ethical, and high-quality."2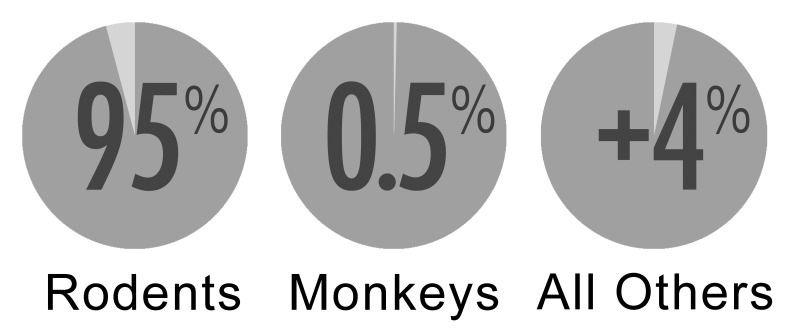 Doctors and researchers everywhere understand what is at stake in every research study with NHPs.1 The lives of every single person living and suffering from a deadly disease, like brain cancer, and the well-being of each NHP hero are at stake. That's why "high standards in the design, conduct, and reporting of NHP studies are crucial for maximizing their scientific value and translation, and for making efficient use of precious resources."2 Refining research studies with NHPs should "minimize harm and improve welfare, which can yield better quality, more reproducible data."2
So, let's review the recommendations from leading experts on ways to refine research with NHPs.
1. Offer Environmental Enrichment to NHPS to Improve Their Welfare
It's well-known among researchers that environmental enrichment is fundamental in ensuring the psychological and physical well-being of NHPs.3 The IACUC defines environmental enrichment as "manipulations to an animal's housing room and cage to improve the environments of captive primates to enhance psychological well-being and provide opportunities for the expression of species-typical activities in an otherwise restrictive and limited environment."3 That's why it is essential to provide NHPS with stimulating, challenging, and exciting enrichment.3
So how can you determine what enrichment is stimulating for NHPs? According to the IACUC, "key concepts to environmental enrichment are novelty, complexity, and control."3 To break it down, NHPs are fascinated by new, complex objects they can manipulate. Rotating enrichment objects is one way to make them appear new to the NHPs.3 Also, enrichment that gives NHPs choices is fantastic for their well-being. For example, "items that can be moved, manipulated, changed and used to cause a desired effect can provide a level of control" in the NHP's life, positively affecting their behavior and welfare.
2. Promote Socialization to Refine Research With Non-Human Primates
Non-human primates, including macaques, marmosets, and other species in research, are inherently social beings.2 And since it is well established that encouraging animals to enact their species-specific behavior is crucial, it's no surprise that giving them social enrichment is fundamental for their overall welfare. Furthermore, "there is a large body of literature on the negative impact of individual housing on the health and psychological well-being of these highly social animals."2 Because of these findings, national regulations and guidelines mandate and encourage the social housing of NHPs. Of course, some studies inherently make socially housing NHPs impossible. For example, the Institutional Animal Care and Use Committee (IACUC) may permit single housing if social housing would jeopardize the study.2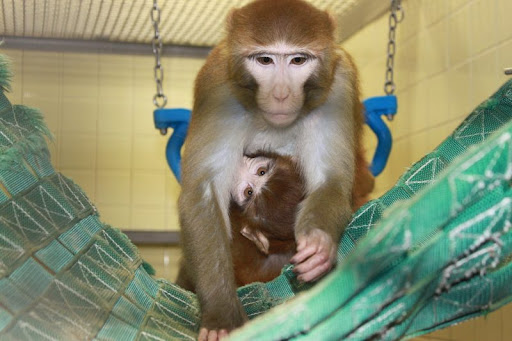 So, how does socialization uptick their well-being and impact your research? Well, studies examining social buffering have shown "the powerful role of social housing in mitigating reactions of NHPs to stressful events, enhancing immune responses, and optimizing the ability to cope with the disease, potentially leading to models that are more representative of the human condition."2
Also, researchers report that it is more time efficient to monitor socially housed NHPs than individually housed NHPs.2 Why? They say that it's more time efficient because "behavioral signs of illness (changes in locomotion, balance, coordination, and peer interaction) are often easier to detect in socially housed NHPs because they express a wider range of natural behaviors."2
3. Provide Adequate Supportive Care to Refine Non-Human Primate Research
Supportive care is essential for refinement in animal research because it promotes the ethical and humane treatment of laboratory animals.2 Supportive care includes treatments that minimize pain or distress in studies. For example, fluid replacement and pain relief are actions of supportive care that support refinement in animal research.
However, all studies require different levels of supportive care. The type of supportive care offered should be carefully selected because treatments may interfere with the study.2 Also, plans for supportive care need to be detailed in advance.2 They should be built into the study design from the get-go.2 When creating a supportive care plan, researchers should consider "whether each animal will receive care when meeting a trigger point, whether every animal will receive the same supportive care uniformly, and whether the staff is suitably trained and competent to detect key signs of illness."2
Related Topic: The Challenges Facing the NHP Supply Chain
Non-human primates play a critical role in biomedical research, as most recently demonstrated by their use in developing COVID vaccines and treatments. Ongoing supply shortages, however, continue to threaten their availability and – by extension – the valuable research in which they are involved.
To learn more about this topic, check out our webinar, The Challenges Facing the NHP Supply Chain, presented by Matt Bailey, President of NABR and FBR, and Dr. Chris Abee, Professor Emeritus of Comparative Medicine at the University of Texas MD Anderson Cancer Center. In this webinar, they discuss the reasons for these shortages, the impact on research, and the potential solutions.
What Kind of Enrichment Does Allentown Offer to Research with Non-Human Primates?
At Allentown, we strive to constantly meet the evolving needs of the laboratory animal science community. So, as the research community emphasized the social housing of NHPs, we did too. That's why we offer NHP enclosures that promote socialization. To learn more about our NHP enclosures, read this blog story.
References:
Friedman, Henry, et al. "The Critical Role of Nonhuman Primates in Medical Research – White Paper." Pathogens and Immunity, vol. 2, no. 3, 2017, p. 352., https://doi.org/10.20411/pai.v2i3.186.
Prescott, Mark J., et al. "Opportunities for Refinement of Non-Human Primate Vaccine Studies." Vaccines, vol. 9, no. 3, 2021, p. 284., https://doi.org/10.3390/vaccines9030284.
IACUC Program to Promote the Psychological Well-Being of Nonhuman … https://www.brown.edu/research/sites/research/files/1.SOP10.10.02-Psych-Well-being-of-NHPs-APPROVED-Sep_28_20.pdf.