Research anesthesia products, services, and practices are key components of the studies performed every day in Laboratory Animal Science. For the success of the research and the safety of the researchers, it is critical that the proper equipment is selected, used, and maintained correctly.
One area of concern with respect to poor equipment performance involves the potential exposure of users to waste anesthetic gases. The process of controlling this type of exposure is known as waste gas scavenging, and one estimate puts it at more than 200,000 health care professionals who are potentially exposed to the CNS, hepatic, renal, neoplastic, and reproductive issues that can arise when scavenging is performed poorly or incorrectly.
Isoflurane is a halogenated anesthetic agent commonly used in Laboratory Animal Science. Inhalant anesthesia is quick, cost effective and can be maintained for long periods of time. However, until recently the scavenging of this waste gas has not been done very effectively and is becoming a large issue as Environmental Health and Safety (EH&S) departments are taking notice of exposure levels to users. The National Institute for Occupational Safety and Health (NIOSH) has a non-regulatory recommended exposure limit (REL) for halogenated agents (e.g., isoflurane) of 2 ppm or 15 mg/m3 as a ceiling limit (over a sampling period not to exceed one hour) during anesthetic administration. Common knowledge tells us that if the technician can smell isoflurane then they are well exceeding those limits, with headaches, dizziness, and nausea resulting as common symptoms of repeat exposure.
Thankfully, much of this can be avoided through the use of a new line of research anesthesia solutions from Allentown and its new partner, SOMNI Scientific.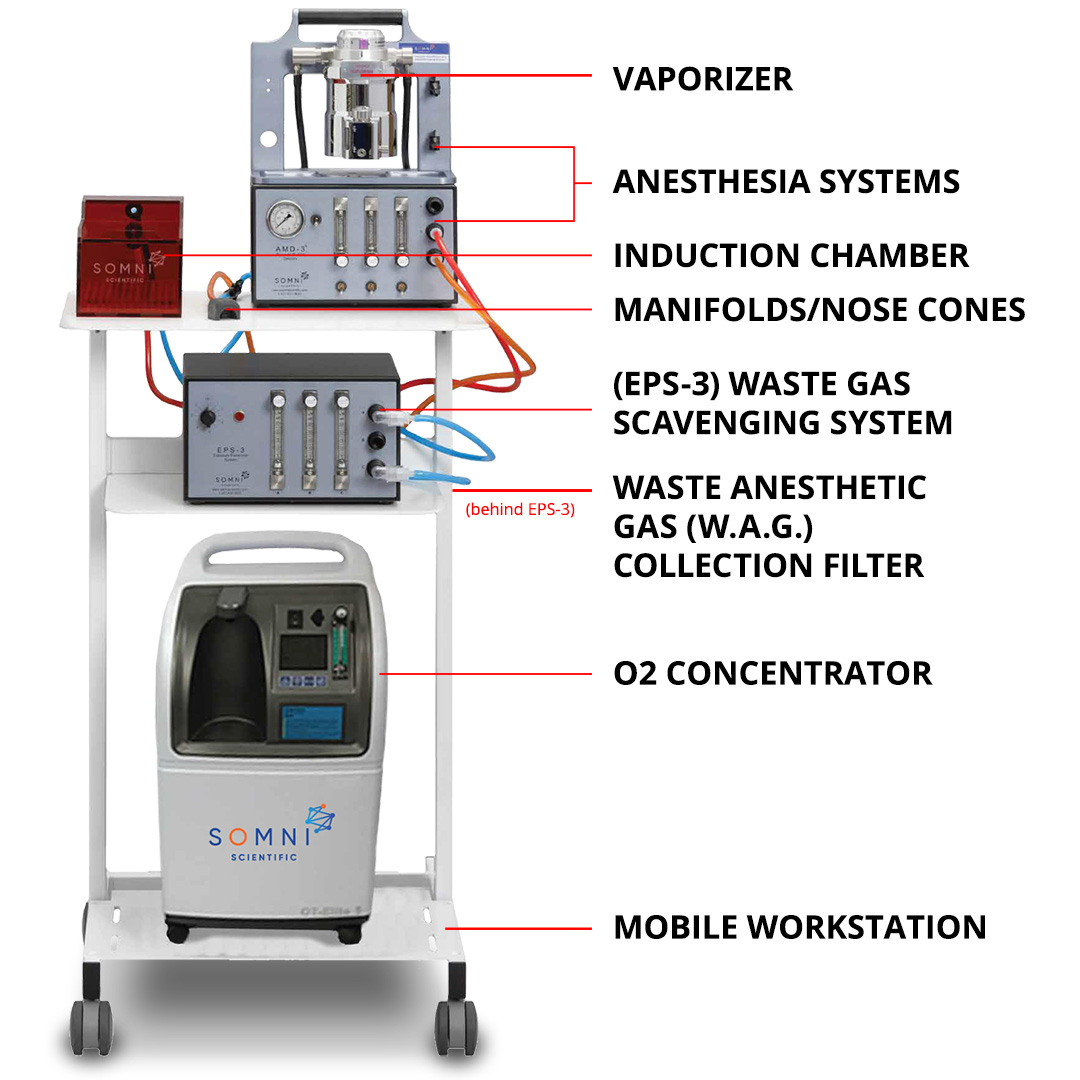 Allentown also offers a wide range of additional solutions that work with, and alongside, the EPS-3 to afford users with the most comprehensive, safe, and effective line of research anesthesia solutions available to the Laboratory Animal Science industry.
For more information about all of our research anesthesia solutions, click here.
To register to attend a webinar on our research anesthesia solutions, click here.
Allentown is the exclusive global representative for SOMNI products.