As the lab animal science community continues to march towards efforts to implement the 3Rs, our technology has to do the same. Sentinel™ EAD® technology is helping research programs everywhere move closer to their colony health management goals.
You might wonder if Sentinel Exhaust Air Dust (EAD®) technology is truly effective for driving your research program closer to the 3Rs. Or, you might be curious if Sentinel EAD® technology is as accurate, reliable, and cost-effective as soiled bedding sentinel (SBS) animals.
Here's what you need to know about the technology and how it can advance lab animal science while supporting the 3Rs.
What is Sentinel EAD® Technology Compared to Soiled-Bedding Sentinel Animals?
Soiled-bedding sentinel (SBS) animals occupy cages containing a collection of dirty or used bedding from multiple cages in an IVC. After being exposed to the soiled bedding for extended periods, researchers take blood samples and test for various parasites, bacteria, viruses, and other dangerous pathogens.
For more than fifty years, soiled-bedding sentinel animals have been the primary method to detect diseases and pathogens within a lab mouse colony. But more and more research is pointing out that the soiled-bedding sentinel animal method of colony health management may have many limitations.
Sentinel EAD® technology replaces the need for soiled-bedding sentinel animals altogether. Instead, Sentinel EAD® captures and samples aggregate exhaust air from IVCs using a collection media that attracts dust particles. Then, the exhaust debris collected from the IVC is analyzed and tested for harmful pathogens.
Sentinel Colony Health Monitoring Detects More Pathogens Than Soiled-Bedding Sentinel Animals 
Many lab animal professionals might question if Sentinel EAD® colony health monitoring could effectively replace SBS animals. So, the University of Chicago conducted a study to uncover some concrete answers.
Over a year-long study, researchers compared EAD® monitoring of IVC racks with SBS health monitoring. What did they find? They found that EAD® monitoring was significantly more sensitive than SBS for detecting bacterial agents.1 Also, they concluded that implementing EAD® surveillance could be a reliable replacement for SBS monitoring in studies using IVC housing.1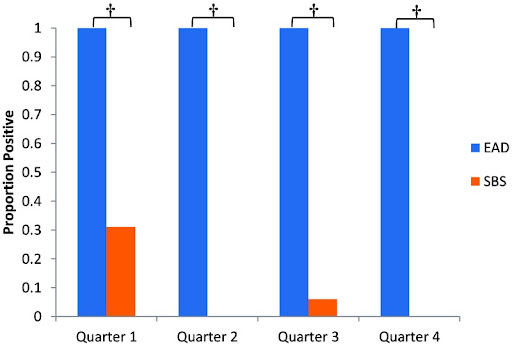 Sentinel EAD® Technology Replaces 1,700 Animal Models Annually
Are you looking for another way to support the 3Rs and replace lab animals in your research program when possible? Well, for the University of Chicago, Sentinel EAD® technology allowed them to decrease "yearly live sentinel animals from 1,676 mice to zero." 2
As the lab animal community is looking for more ways to replace, reduce and refine, Sentinel EAD® could be an excellent solution.
Sentinel EAD® Saves More Than Lives: It Saves Dollars and Hours
You might be wondering how cost-effective Sentinel EAD® technology could really be. Would it make that much of a financial difference for your facility? Well, its impact on the University of Chicago was enormous.
To discover precisely how much they could save by swapping out soiled-bedding sentinel animals for EAD® technology, the University of Chicago conducted a study. And what they found was astounding.
They found the EAD® program was "26% less expensive than SBS." 2 But that's not all. They also discovered that EAD® technology "decreased the amount of time spent by the staff on health monitoring activities." Furthermore, "for veterinary technicians, this decrease in time was calculated as savings of 150 hours annually, almost three hours a week." 2
We all know how precious every hour is, especially in the lab animal field. Any opportunity to shed even a minute on a veterinary technician's workload could help the overall success of a given research program. Three hours per week is paramount.
Sentinel Colony Health Monitoring Improves Staff Morale 
Most people who gravitate toward careers in laboratory animal research tend to love animals. For example, Kelly Walton DVM, a third-year student of comparative medicine at Colorado State University, is no exception. She explains that her love for animals began as early as she could remember and grows constantly.
And in harmony with her love for animals, he also recognizes that "the importance of animal research cannot be overstated. Animals have been vital in the development of every major medical discovery."3 Furthermore, some of Walton's primary concerns are the 3Rs, especially refinement.
Chago Bowers, an animal health technician at the University of Chicago, discusses his experience with Sentinel EAD® technology in the National Centre for the Replacement Refinement & Reduction of Animals in Research newsletter for animal technicians, Tech3Rs. For Bowers, replacing soiled-bedding sentinel animals with Sentinel EAD® technology is improving the quality of his work life.
He explains, "it was always stressful on the days we had to collect the sentinel mice for tissue sampling. I have worked as a technician for over twenty years, and that all adds up. Collecting exhaust air dust samples has been a refreshing change, and the switch has improved the quality of my work life."
Every research program is different. And so is every member of a research team. There is no one-size-fits-all solution for all the challenges the lab animal research industry faces. But for many people, Sentinel EAD® technology positively impacts their daily lives.
Learn More About Sentinel EAD® Technology
References
Mailhiot, Darya, et al. "Comparing Mouse Health Monitoring between Soiled-Bedding Sentinel and Exhaust Air Dust Surveillance Programs." Journal of the American Association for Laboratory Animal Science, vol. 59, no. 1, 2020, pp. 58–66., https://doi.org/10.30802/aalas-jaalas-19-000061.
Luchins, Kerith R, et al. "Cost Comparison of Rodent Soiled Bedding Sentinel and Exhaust Air Dust Health-Monitoring Programs." Journal of the American Association for Laboratory Animal Science, vol. 59, no. 5, 2020, pp. 508–511., https://doi.org/10.30802/aalas-jaalas-20-000003.
Walton, Kelly. "'Why I Am a Laboratory Animal Veterinarian.'" Speaking of Research, 29 Dec. 2013, https://speakingofresearch.com/2013/01/21/why-i-am-a-laboratory-animal-veterinarian/.
Sentinel™ EAD®: US Patent 10,575,495 B2, Canadian Patent 2,987,625. Sentinel2™: Patent Pending. Sentinel is a trademark of Allentown, LLC. EAD is a registered trademark of Charles River Laboratories, Inc.