In our webinar "Corynebacterium bovis: New Insights, Extraordinary Challenges," presenter, Neil S. Lipman, VMD, Executive Director of the Center of Comparative Medicine and Pathology at Memorial Sloan Kettering Cancer Center and Weill Cornell Medicine, discusses the challenges that C. bovis continues to pose to institutions using immunodeficient mouse models in oncology and other scientific disciplines. Here are three main takeaways about C. bovis in lab mice studies:
The scientific community needs a greater understanding of C bovis. For example, there are only twenty-seven published studies on C. bovis in or related to laboratory rodents (which is not nearly enough).
C. bovis is often considered a homogenous organism, or in other words, as one bacterium. But C. bovis isolates can vary drastically.
C. bovis can be a confounding variable in research.
The bottom line is that once C. bovis becomes present in a laboratory animal facility, getting rid of it is extremely difficult. As the need for a greater understanding of C. bovis increases, Dr. Lipman offers his expert advice on treating and eradicating C. bovis in laboratory mouse colonies.
How Does C. bovis present in Lab Mice?
According to Lipman, C. bovis presents differently in nude mice than in NSG mice. One primary difference is a clinical disease generally resolves in nude mice, whereas it is progressive in NSG and other highly immunocompromised mouse strains. So, clinical management varies depending on the strain.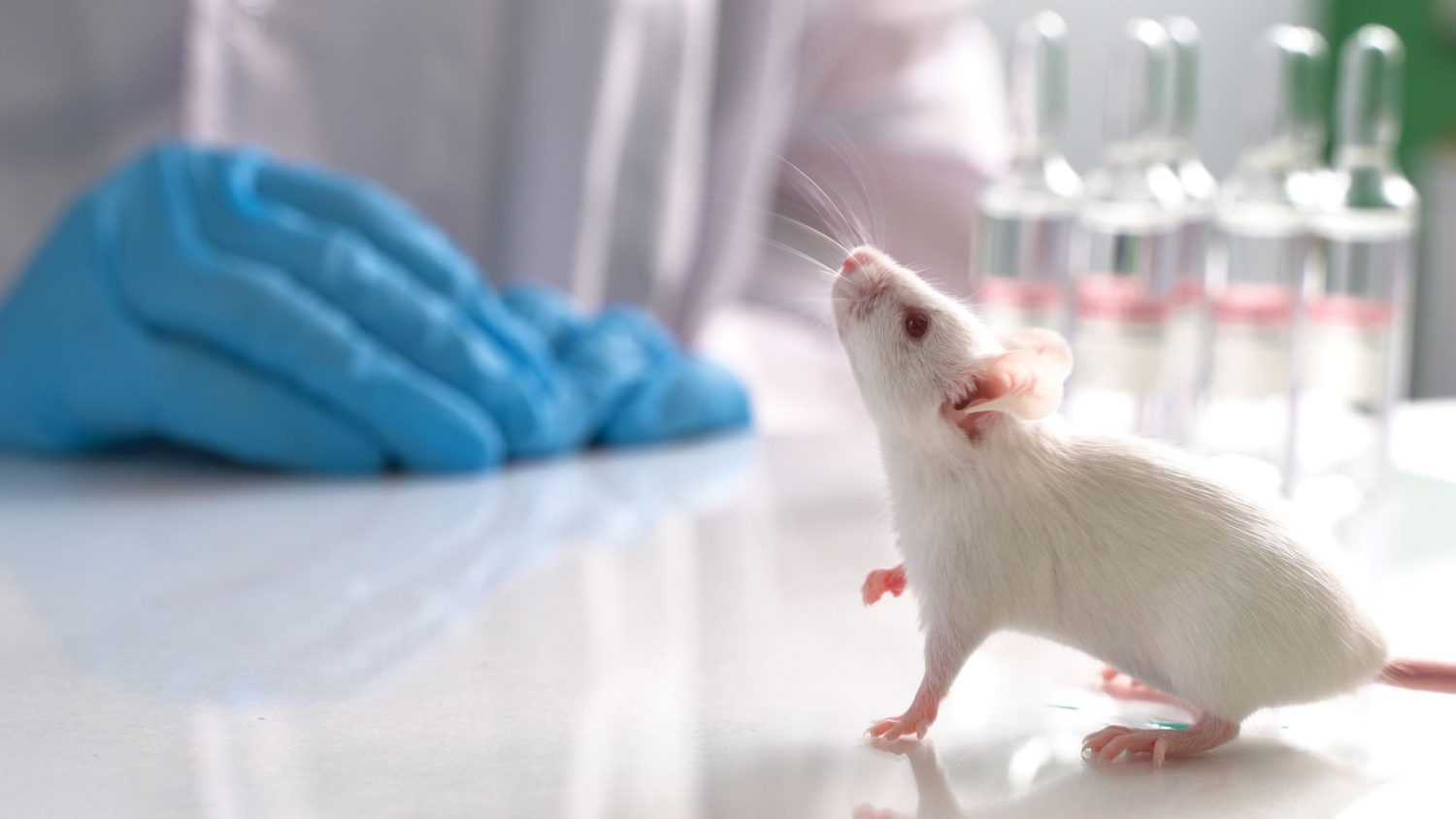 Disease Presentation in Nude Mice
Causes flakes and scales on the dorsal and ventral skin (known as Corynebacterium Associated Hyperkeratosis, formerly called Scaly Skin Disease)
Pruritis or itchiness
Wasting disease
Dehydration
Weight loss or weight gain
No differences in affecting age or sex
Disease Presentation in NSG Mice
Scruffy hair coat
Periorbital hair loss and erythema
Hair loss near muzzle and feet
Flaky skin on ears
Progressive
How to Diagnose C. bovis in Lab Mice
Before we discuss treating C. bovis, it's critical to understand how to diagnose it. First, Lipman cautions against using flaky skin or scruffy hair as your definitive reason for a diagnosis. For example, flaky skin or a mangy appearance could be symptoms of something else. However, don't ignore flaky skin or scruffy hair. Instead, Lipman recommends confirming with another method. He suggests an aerobic culture or PCR testing.
Aerobic Culture
Skin swabs (equal sensitivity immunocompromised mice)
Buccal swabs (preferred hirsute immunocompetent mice)
Combination (enhances sensitivity)
PCR
Skin swabs
Buccal swabs
Feces
Pooled (best)
Preventing C. bovis is Your Best Option
Lipman suggests that the best thing you can do is to keep C. bovis out of your facility from the get-go because "once established, C. bovis is an extremely difficult pathogen to manage in facilities."2 There is limited data about how to manage and clear C. bovis from a facility. So, Lipman emphasizes that prevention is essential. Lipman also recommends confirming that your facility is free from C. bovis. Some facilities have cases of C. bovis without even recognizing it.
Amoxicillin is an Effective Treatment for C. bovis in Mice
If treatment is warranted, Lipman recommends using Amoxicillin to treat C. bovis in highly immunocompromised mouse strains. Historically, that's what he uses in his research colonies to treat mice. He suggests delivering it to the mice through their feeder or water. According to Lipman, the impact is meaningful from a clinical point of view. However, early work indicated it did not alter the clinical course in nude mice in an experimental study. But, in Lipman's experience, animals given amoxicillin for C. bovis showed improvement.
Furthermore, Lipman mentions how several studies published by the University of Colorado successfully used Amoxicillin plus clavulanic acid to treat C. bovis in NSG mice. Lipman explains how it worked in that particular study where they infected the mice. Then shortly after that administered the antibiotic. However, studies conducted at his institution found it ineffective in eradicating C. bovis in enzootically infected colonies.
Lipman offered caution that when using amoxicillin or its combinations in NSG and similar strains, there is a risk of Clostridium difficile enterotoxemia and significant alteration of the microbiome in all strains and stocks.
Topical Penicillin-Streptomycin: Not an Effective Treatment for C. bovis in Lab Mice
Some researchers used topical penicillin-streptomycin spray to treat mice with C. bovis. But Lipman warns against this. He references the study by Burr et al., "Strategies to Prevent, Treat, and Provoke Corynebacterium-Associated Hyperkeratosis in Athymic Nude Mice," which shows this method was ineffective.
Trimethoprim-Sulfamethoxazole: Limited Success
Another treatment used is trimethoprim-sulfamethoxazole (TMS). But its effectiveness is limited. Some isolates resist this treatment, and others have intermediate sensitivity. Lipman has used it successfully in nude mice but not in highly immunocompromised mice.
One of the benefits of using TMS is it has less of an impact on the gut microbiome of mice than amoxicillin. Why? Because hosts excrete TMS through urine, not the gut. Therefore, it tends to have less effect on the gut microbiome.
How to Destroy C. bovis Bacterium
Although C. bovis is highly infectious, destroying it is straightforward. According to Lipman, you don't need to sterilize everything or autoclave to get rid of it. The bacterium is sensitive to temperatures attained in a properly functioning tunnel washer.
How Does C. bovis Act as a Confounding Variable in Research?
A study conducted at the University of South Florida's Moffitt Cancer Center found a definitive impact of C. bovis on the engraftment of a cell line. Also, other studies of C. bovis in mice have reported decreased growth rates, altered tumor biology due to antibiotics, variable toxicity and efficacy of chemotherapeutics, and increased mortality. These all support the need to eradicate C. bovis in mice studies to improve animal well-being and reliable research.
More From Our Webinar: How Does C. bovis in Lab Mice Emerge?
The research community doesn't have a definitive answer for where C. bovis originates. But, once C. bovis appears, there are some answers for how it spreads in a laboratory or office. According to Lipman, C. bovis can spread from hands, writing implements, incubators, work surfaces, and more.